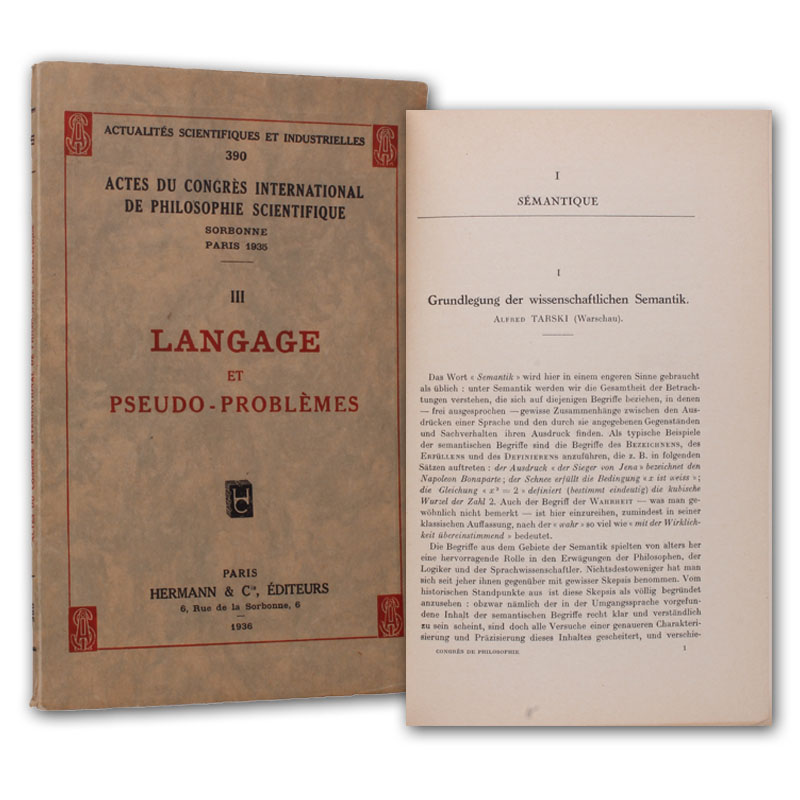 112673-01
Grundlegung der wissenschaftlichen Semantik. SS. 1-8. In: Actes du Congrčs International de Philosophie Scientifique, Sorbonne, Paris 1935. III. Langage et Pseudo-Probčmes.
Paris, Hermann, 1936. - (25 x 16,5 cm). (2) 59 (4) S. Original-Broschur, unbeschnitten.
Erste deutsche Ausgabe seiner im gleichen Jahr auf Polnisch erschienenen Arbeit "O ugruntowaniu naukowej semantyki", in der er seine Theorie der Wahrheit präsentiert. - "In the mid-1930s, the first philosophers to whom Tarski communicated the ideas of his theory of truth were Karl Popper and Rudolf Carnap, and both took to it quickly. Carnap urged Tarski to communicate it to the Unity of Science meeting in Paris in 1935; at that meeting, however, other members of the Vienna Circle (most prominently, Otto Neurath) were openly critical. The bone of contention was whether the semantical concepts could be reconciled with the strictly empiricist and anti-metaphysical point of view of the Circle. In the write-up of his talk 'The Establishment of Scientific Semantics' for the Paris conference Tarski tried to make the views compatible" (Feferman, Alfred Tarski S. 122). - Wohlerhalten. - DSB 18, 893; Givant 36f. - Der Band enthält weiter Beiträge von: M. Kokoszynska, L. Massignon, P. Masson-Oursel, J. Richard, M. Chevalley, A. Padoa, Th. Greenwood, L. Rougier, G. Matisse, F. Feigl und Vouillemin.